« Back
1927 Ford Model T $15,995
Contact phone: (231) 468-2809
Cadillac, Michigan
Zip: 49601
1927 FORD T MODEL ROADSTER 327 Small Block Chevrolet Corvette V8 Engine. Engine Casting Number: 3782870. 350 Turbo Automatic Transmission. Edelbrock Valve Covers & Air Cleaner. Edelbrock 600 CFM Carburetor. Fiberglass Body. Car Completed and Titled in 2002. Clean Clear Title with Vin Number Matching on Title & Frame. Can be titled just like any other car in any other state. Functional Roll Bar w/ Chrome Finish. Floor shift w/ Custom Stella Beer Tap Shifter. Functional Turn Signals, Lights, Gauges. New Mickey Thompson Rear Tires. Weld Drag Lite Polished Wheels. Drop Straight Axle Front End w/ Disc Brakes. Bench Seat ( also included a set of small bucket seats). 1970's Mercedes Front Grill. Roadster Headers w/ Removable Mufflers. 10 Bolt GM 1967 Camaro Rear End w/ 3.08 Gears. Carrera Coil Over Shocks w/ 4 Link Suspension. Model A Frame. Straight Axle Front End w/ Leaf Springs. Rack & Pinion Steering.
Trim: Roadster
Doors: 2
This car is on consignment, please contact us for the exact location.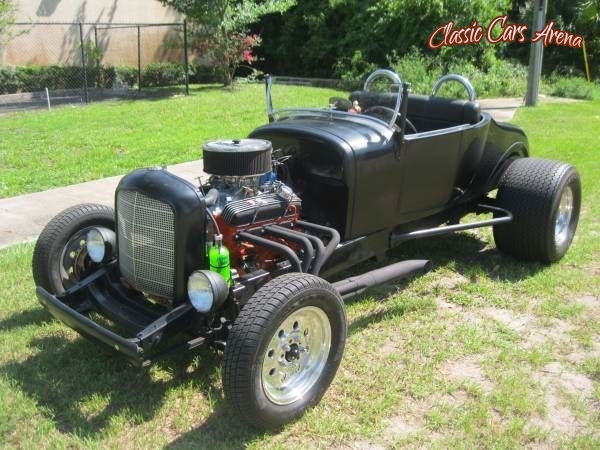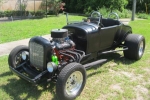 Looking To Sell Your Classic Car? You Hit The Right Place!
• Stays Listed Until Sold
• Unlimited Pictures
• Listings Starts At $39, One Time Fee
• Reach Over 5,000,000 Potential Buyers
Plus For Featured Ads And Premium Ads
• On Top Of The List Every WEEK (Featured) / DAY (Premium)
• Highlighted Car Listing & Newsletter Listing
SELL YOU CAR NOW
Similar Classic Cars