« Back
1953 Chevrolet Bel Air $2,700
Contact phone: (251) 649-6524
Mobile, Alabama
53 CHEVY HAS CHOPPER TOP DOORS HAVE BEENING SHAVER SIT ON A 71 MARLOCARLO CLASSIE,NO MOTOR NOWINDOWS NOTRANMITTER AND NO SEATS. THE GAR HAS SOME RUST AT THE BOTTOM OF DOORS AND OF FENDERS ON BOTH SIDE LITTLE RUST INSIDE.A GOOD PROJECT CAR .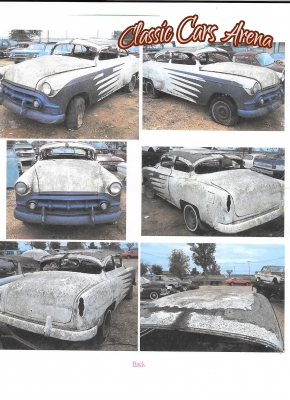 Similar Classic Cars
Looking To Sell Your Classic Car? You Hit The Right Place!
• Stays Listed Until Sold
• Unlimited Pictures
• Listings Starts At $39, One Time Fee
• Reach Over 5,000,000 Potential Buyers
Plus For Featured Ads And Premium Ads
• On Top Of The List Every WEEK (Featured) / DAY (Premium)
• Highlighted Car Listing & Newsletter Listing
SELL YOU CAR NOW