« Back
1933 Ford Vicky $42,750
Contact phone: (985) 231-7787
New Orleans, Louisiana
1933 Ford Vicky Sedan W/Matching Trailer

VIN # 0H31164694

Hour Meter 1465—No Odometer

With its pearl white and purple metallic body ornamented with flames down its sides, this coupe isn't likely to get lost in a crowd any time soon. As ornate as it is, it has the shine to match, glowing like a multi-colored diamond in the sunlight. You can't help but notice how revolutionary this '33 had to have seemed - with it's flowing fenders, generously sized running boards and ornate front grille. While man cars of the day were growing ever larger in size, this version held on to a relatively compact wheelbase, giving it a substantial, sturdy look. There are some great details in play here, including the subtle modification that provides its inclined aggressive stance, as well as the rendition of Betty Boop that graces its rear deck lid. Its detailed paint job is effectively ornamented by the clean chrome of that front grille, as well as the straight front and rear bumpers.

Open one of the suicide doors to see the interior - a creative mixture of black cloth upholstery next to the purple accents of the steel dash and door frames. Modern touches take their place inside the cabin's vintage vibe, in the form of the billet-look instrument cluster housing a set of glowing digital gauges, a prominently sized display screen to pilot the Clarion AM/FM/CD stereo and NAV system, and an underdash Air Conditioning system to keep you and your passenger comfortable. While this vintage Coupe has all the attributes of a worthy exhibitor on the local car show circuit and even comes with its own matching trailer in tow to add to its display impact, it's actually well-equipped to be a daily driver- and imagine the head-turning that will ensue when you take it on the road. The storage area in back is substantial - almost making you do a double take when you see it - and it's lined with gray carpet bracketed by wheel wells on each side that show no ill effects from any shifting cargo.

The Ford's drivetrain is configured to provide plenty of power while sidestepping the tempermental nature and hassles that often come with an overly modded drivetrain. The 350-cubic inch V8 sitting underneath the substantial hood carries a 4-barrel on top and is in good form - starting right up and running with all the smoothness you're looking for in a frequent driver.

Engine 350 C/I

Transmission 700 R4 Automatic

A/C

Clasrion NZ503 AM/FM CD

Navagation

Electric Windows

Tilt Wheel

Show Car Carpet, Ropes, Bumpers and Cover

Trailer has Matching Paint and Flame, with Front and Rear Storage

If interested, call 770-235-3900 or email lamar.intlmarble@gmail.com.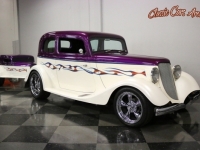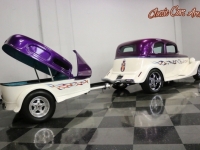 Similar Classic Cars